Oklahoma Elks State Major Projects
…"A penny a day so they can run and play"!
Our programs are funded by a contribution of $3.65 a year to Oklahoma Elks Major Projects (or double donors – $7.30) and the Earl E. James Endowment Scholarship Program. Your investment goes to work immediately!!!!
Here's how Elks and non Elks alike can help all Oklahoma Youth and many others less fortunate than ourselves. Contributions will be welcomed by your Lodge Major Projects Director or your Lodge Secretary at any time. You will receive a "365er" sticker to be placed on your membership card. You can be a Double Donor and receive a Double Donor Lapel Pin. Display it with pride as a supporter of your Oklahoma Elks Major Projects.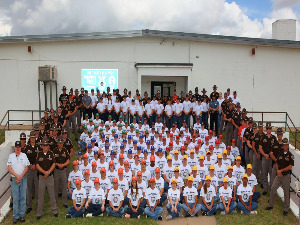 Cadet Lawman Academy
Cadet Lawman Academy is held in early June and is open to high school boys and girls just completing their junior year. The Cadet Lawman Academy is a partnership between the Oklahoma Elks State Major Projects and the Oklahoma Highway Patrol selects up to 140 high school juniors to be schooled in defensive driving, firearm safety and respect for law enforcement. It is a week-long camp put on by volunteer Highway Patrol and Law Enforcement Officers and is designed to give cadets a better understanding and respect for law enforcement. This program is funded by the Oklahoma Elks Major Projects and The Oklahoma Highway Patrol Troopers Association. Oklahoma Elks State Major Projects provides funding for the students and the instructors food, clothing and housing for an entire week.  Check out the Facebook page for more details.  https://www.facebook.com/CadetLawman
Earl E Jones Endowment Scholarship Fund & Scholarships
Your Major Projects administers an endowment trust fund named after Past Grand Exalted Ruler, Earl E. James, from Oklahoma City. The Trust is funded by individual $100.00 donations (may be paid in four (4) installments of $25.00) for which you will receive a Past Grand Exalted Ruler Earl E. James Memorial desk set trophy. Any Lodge, organization or individual may make a contribution and receive a desk set.
Only the interest from the trust fund is used to provide The Art Bartunek Scholarships. These scholarships are presented to those who enter the Elks National Foundation "Most Valuable Student Contest" and who have not received a national award.They are also available to the children of Oklahoma Law Enforcement Officers killed in the line of duty.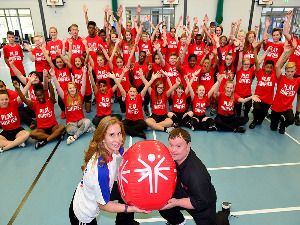 Special Olympics
The Oklahoma Elks State Major Projects has been a proud sponsor of Special Olympics, Oklahoma since its inception in 1977. Special Olympics, Oklahoma is the fifth largest in the country and provides year round sports training and competition to children and adults with mental and physical handicaps. Special Olympics, Oklahoma offers a variety of individual and team sports with local, regional and statewide events. For many years your Oklahoma Elks Major Projects is proud to have been named to the elite "Major Contributors Category" by the Special Olympics Committee. Special Olympics Oath "Let me win… but if I cannot win, let me be brave in the attempt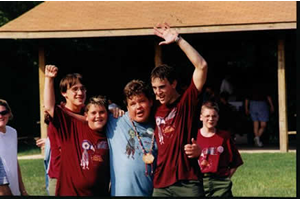 Troop 999 Special Camporee
Special Camporee is a yearly event that allows special needs children to participate with an assigned Boy Scout Buddy in a weekend outdoor environment which includes canoeing, archery, field games, and crafts. The extended weekend concludes with the Boy Scout buddies and the special campers sharing skits, songs, campfire and recognition of their accomplishments.
Art Bartunek Scholarship Program
Each year 20 students are awarded $800 scholarships through the Art Bartunek Scholarship Program. These scholarships are funded through the Earl E. James Endowment Fund, Oklahoma Elk's Charitable Trust and Oklahoma Elks State Major Projects contributions.